Buying Office for a PC or Mac is essential for work or study.
Microsoft Office suite programs are the standard for anyone with a computer, be it a professional or a simple user.
There Microsoft Office suite offers numerous programs (Word, Excel, PowerPoint, Access, Hotmail, Publisher) that are extremely efficient for work, study, research or home management.
The problem can be the very high price of the various Office packages.
If you are wondering if it is possible
do Office download for free
, well know that it is possible only in a few cases that we will see later in the article. The trick for buy an Office license and save money is to look for a digital license on offer from a reputable provider, without falling into the trap of overly tempting offers that could hide scams.
How much does a Microsoft Office license cost
L'purchase of an Office license on the Microsoft website it is particularly expensive. The Office 2021 Pro license on the Microsoft store alone costs € 579.00. An exorbitant price that could be cut by over 80% if you buy the same digital license from other digital stores.
Buying a digital license is also worthwhile because it is about lifetime licenseswhich allow the installation and activation of the package Office forever. Though Microsoft 365the subscription Office suite, may seem cheaper, in the long run a mandatory monthly subscription will cost much more than the price of a single digital license.
Where to buy an Office package while saving money
If you want
install Office on a PC
, the search for the online store where to buy the best Office offers while saving money must be conducted very carefully. In particular, there are two things to take into consideration: the cost of the licenses for sale and the reliability of the online store.
As for the cost of licenses, don't be fooled by too low prices. A digital license for Office that is too cheap, even under € 15 at times, could turn out to be a scam. At best it could be a program that doesn't work or an illegal license, at worst it could be a means of stealing credit card data or infecting the computer of those who buy them with malware and ransomware, putting risk the device and the data contained within it.
Checking the reliability of the store is just as important, you have to look for reviews online and read the opinion of previous buyers to see how their shopping experience went. The scarcity or absence of reviews proving the reliability of an online store is a serious wake-up call.
After verifying these aspects, in our opinion
Mr Key Shop
is the best portal where
buy Microsoft Office
And
activate Windows
saving up. It is an online digital licensing store with over 18 years of experience, more than 350,000 active customers and an "Excellent" average of
TrustPilot
based on over 1800 reviews. This online store offers secure and traceable payment systems (Paypal, Amazon Pay, Apple Pay) and issues a regular invoice. There delivery of the products is immediate, as licenses are emailed immediately after payment. Customers are helped and protected even after the purchase: in case of need, the store offers free assistance and in Italian in addition to "satisfaction or your money back" guarantee on all products.
Selling digital licenses isn't just about great prices – by not physically shipping tangible products, you'll never pay shipping costs. Mr Key Shop is also a 100% Eco-Friendly company. By choosing to purchase digital licenses, fewer CO2 emissions are produced for transport and also reduces packaging pollution for the transport of software.
But how much can you save by buying an Office license on this store?
Here are what the Office packages available on Mr Key Shop on which you can save up to over 400 €:
Office 2021
(in the Professional, Home & Business and Home & Student versions)

Office for Mac
(in the 2021 Home & Business and Home & Student versions, Office 2019 and 2016 in the Home & Business version)

Office 2019
(in the Professional, Home & Business and Home & Student versions)

Office 2016
(in Professional and Home & Student versions)

Office 2013
(in the Professional version)

Office 2010
(in the Professional version)
On Mr Key Shop you can also buy numerous other digital licenses on offer, such as those of Microsoft operating systems (Windows 11, Windows 8.1, Windows 7), licenses for the best VPNs and the best antiviruses on the market (Norton, Avast, Kaspersky, ESET, McAfee, Bitdefender,) and products Windows Server.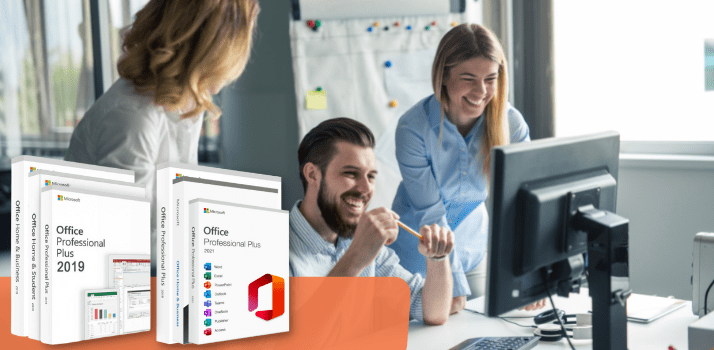 Which version of Office to choose
Before buying one Office license on offeryou need to understand which Office package is suitable for your needs.
Although it is rare to have a computer not compatible with Microsoft Officeyou have to make sure that the program, once purchased, can actually be installed on your device, which must therefore meet the minimum requirements to make it work.
Taking an example with Office 2021the latest version of the suite, these are the minimum requirements for PC and Mac:
Windows 10 for PC is one of the latest three versions of the macOS operating system.
A 1, 1 Ghz and 2 core processor for Windows and an Intel or Apple Silicon for MacOS.
A 4GB RAM memory for both operating systems.
4 GB of available space on a PC and 10 GB on a Mac.
A screen resolution of 1280 x 768 for Windows and 1280 x 800 for macOS.
Finally, a DirectX 9 with WDDM 2.0 is required.
If a device meets these requirements, all Office packages they can be installed and will work regularly. But now we move on to the next question: which version of the Office package to buy?
The difference between the versions is in the number of applications they include, so you have to choose according to the programs you need, taking into account that the more expensive the Office packages are, the more programs they contain. Always taking as an example Office 2021: the version "Professional" it is the most expensive and contains all the programs of the suite, while the version "Home & Student" it is the cheapest and contains only Word, Excel and PowerPoint.
Finally, you need to consider until a version of Office will be supported. In particular, from 2023 Office 2013 will no longer receive updates while Office 2010 has already been excluded from Microsoft support.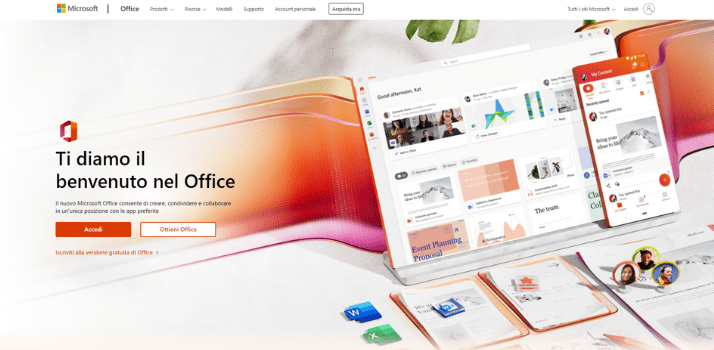 Is it possible to activate Office for free?
Downloading and activating Office for free is legally possible thanks to Microsoft, which offers three ways to get Office for free.
The most common method is to take advantage of the period of Microsoft 365 trial. Once the free download and installation of the suite have been completed, a 30-day free trial will be available. It can be very useful as a test bed to understand if it is worth buying an Office license or not, but as mentioned, at the end of the trial period it will be necessary to activate the subscription.
Alternatively, Microsoft offers it for free Office Onlineone web version of the suite available exclusively online. Obviously there are limitations: in addition to the fact that for the use of the online suite it is essential to always have an internet connection, only some programs are available (Word, Excel, PowerPoint and One Note) and the functionalities are very limited compared to the version classical.
Finally, there is the possibility reserved for teachers and students to have a free Microsoft Office license. In this case, you access the full version of the suite, but the solution is only available for the two categories indicated.
That's for PC and Mac, while there's another way to get free Office for mobile devices. In the case of smartphone and tablet with a screen of less than 10.1 "you can download from the Play Store or the App Store all the applications of the Microsoft Office Suite for free and without limits. The disadvantage, in this case, is the size of the screen, which makes it difficult to use for those who work for a long time with these software.
Unless you're a teacher or a student, your best bet is to buy a lifetime digital license from an online store and save. Also because you have to be very careful about the illegal solutions that the web offers to use Office for free.
There are online portals from which you can download unlicensed Office files, but there is no way to know what you are downloading, so they are potentially harmful to the device on which they will be installed.
Another common method of illegally activating an Office license is i KMS (Key Manager System) emulated, ie illegal software that allows you to activate Office, Windows and other programs for free by periodically changing the activation key. To do this, however, they must always be active and have full access to the device, putting it at risk, as it is not known what other files they can install on the device (ransomware, trojans, malware, etc.).
How to download Office
Once you have purchased the digital license of the suite, this is the procedure for downloading Office for PC or Mac:
Log in to the site
Office.com
Click on "Login"at the top right, and enter the credentials of your Microsoft account (or create one, because without an Office account it cannot be downloaded).
Enter the activation key (the Product Key will be in the email sent by Mr Key Shop after the purchase).
Download the installation file.
Install and activate Office
Installing Office, both on Mac and PC, is a very simple process: just double-click on the file you downloaded earlier and follow the instructions that appear on the screen.
At the end of the installation, all you have to do is activate the version of Office purchased and you can use it.
Here's how to activate Office:
To boot for the first time any Office application (Word, PowerPoint, Excel, etc.).

Log into at Office with the Microsoft account used to download the program.
Office is now active and can be used.
Conclusions
Buying a digital license for Microsoft Office from an online retailer therefore guarantees huge savings. You can test the Office suite thanks to the free trials offered by Microsoft and then you can purchase the Product Key of the version of Office best fit on Mr Key Shop going to save up to 80% on the license price.
Source-www.adnkronos.com