Coming out of decades of a communist economic system, the former DDR had to face a very harsh structural change in the years after 1990. It was not only a question of moving from a collectivist system to a market economy, but also of developing an almost non-existent tertiary sector. In two years, more than a million workers lost their jobs in the eastern Laender. A wound that remained open for years: only in 2014 did the unemployment rate in the East fall below 10%, now reaching almost the same level as in the West
Historical images of the Berlin Wall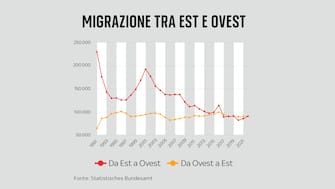 The sudden disappearance of jobs was also the cause of a constant migration from East to West. In the early 1990s, over one hundred thousand East Germans headed west each year, seeking greater opportunities. A flow that had a second peak in the early 2000s, when the generation that had studied in a reunified Germany moved towards the jobs for which it had been prepared. A constant flow that has only stopped in recent years.
Berlin, before and after the fall of the wall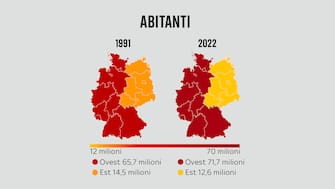 30 years later, the Eastern Laender have around 2 million fewer inhabitants, while the West has grown both due to the increase in births and the arrival of foreign citizens
Helmut Kohl, the chancellor who reunified Germany
Those who left the East in the 30 years after reunification were mainly young people and especially young women. If shortly after 1990 the East was younger on average, thirty years later the average age rose significantly. The departure of young people has also limited normal population growth in the eastern Laender
The escapes from east to west left etched in history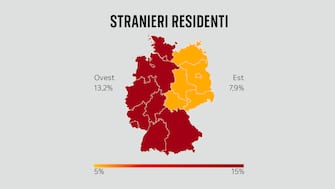 Even the contribution of foreign citizens weighs less in the East than in the West. The richest Western Laender attract foreign workers more, which is almost double that of the Eastern Laender
Six things to know about the fall of the Wall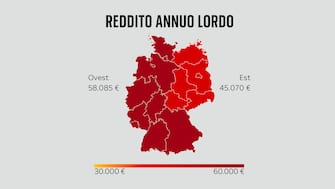 Although in many areas the differences have flattened out, still in 2022 the average gross annual income between East and West is over 13 thousand euros
Rock & Wall, June 19, 1988: the cold war of concerts
But the rapprochement between East and West does not always arise from positive factors. The number of people at risk of poverty in Germany has increased from 2005 to today, especially in the western Laender, while the east has seen an improvement in its situation
What life was like in East Germany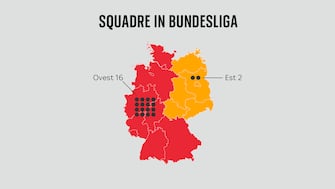 The different weight of East and West is reflected in all areas of German life. In the Bundesliga, the top flight of German football, today there are only two teams from the east. Union Berlin, which has existed since the days of the GDR and RB Leipzig, created ad hoc by Red Bull in more recent years. However, this too is a small step forward compared to the past. In 2012/13 there wasn't even a team from the East competing for the Meisterschaft.
When the reunification derby was played
Source-tg24.sky.it