Israel has accelerated the operation on Gaza: last night he announced that he had intensified the raids with troops and tanks inside the Strip, while never before have so many planes taken off for raids in the Palestinian enclave. According to a military spokesperson, around 150 underground targets, including tunnels, were hit by the Israeli air force last night in the north of the Strip. Some residents said last night was the "worst night" since the start of the war due to the intensity of the bombing.
Hamas-Israel war, all updates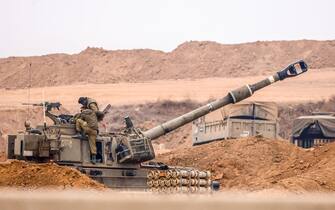 In Haaretz some residents of the Gaza Strip spoke of incessant attacks by the Israeli armed forces in the eastern part of the city, from Jabaliya refugee camp to Bet Lahiya and Bet Hanun. Attacks were also reported in the central Strip and in Khan Yunis in the south. "Hamas has committed crimes against humanity and will feel our wrath tonight, the revenge begins tonight," Mark Regev, senior political advisor to Israeli Prime Minister Benjamin Netanyahu, said yesterday in an interview with MSNBC
Hamas-Israel war, the special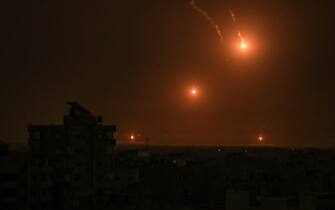 Later Peter Lerner, spokesman for the Israeli Defense Forces, specified in an interview with ABC: the Israeli army is launching a land incursion into the Gaza Strip that is larger than the previous ones, but it is not yet the major official land invasion announced for days. However, Lerner confirmed that the Israeli Defense Forces were expanding operations at that time, with the largest Israeli ground operation in Gaza since the October 7 attack.
UN General Assembly approves draft truce in Gaza. Israel: "Shame"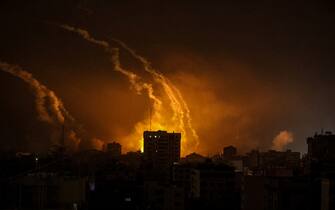 Israeli military spokesman Daniel Hagari confirmed that the army's ground forces had expanded their raids inside the Gaza Strip last night, but added that Air attacks have also increased. Due to the massive bombings, Internet and telephone connections were cut in the Strip. Hagari renewed his appeal to Palestinian residents to evacuate to the south of the Strip. There is no information on victims and injured, given that communications with health workers are interrupted
Subscribe to our newsletter to stay updated on news from the world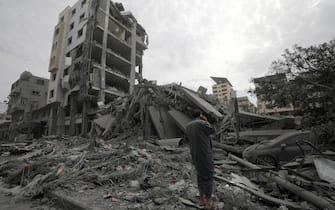 Hamas tunnels in Gaza are in the sights of Israeli forces. "We are looking for anti-tank capabilities, destroying observation posts and attacking terrorists where we find them on the front line or on the outskirts of the Strip", Lerner said, adding that this is an operation conducted "in order to create optimal operational conditions on the ground. We intend to dismantle their capabilities, destroy their government and ensure that they can never again use the Strip as a staging ground against our people."
West Bank, street protests against Israel's offensive in Gaza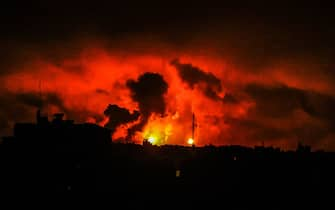 The announcement of the increase in incursions into Gaza was preceded by intense rocket fire towards southern and central Israel, especially on Tel Aviv. Hamas' armed wing, the Qassam Brigades, last night said they had "thwarted an Israeli ground incursion in Beit Hanoun and the eastern part of Bureij" (in the north-east and central part of the Gaza Strip), adding that "violent clashes" then occurred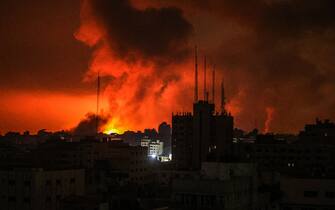 According to Al Jazeera Online, a senior Hamas official, Osama Hamdan, said Israel was attempting to "create an image of victory." "Cutting off communications from the Gaza Strip is an attempt to cover up the crimes of the occupation without any oversight or accountability", added Osama Hamdan. The Hamas spokesperson then declared: "There were negotiations and also political efforts to reach an agreement" on the ceasefire and the exchange of prisoners, but "after Israel's latest raids on Gaza "There are no more talks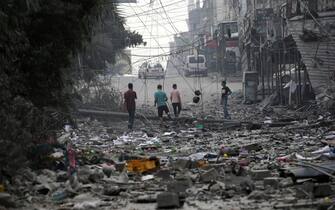 According to the Israeli Air Force, "fighter planes guided by precise intelligence information killed the head of the air force of the terrorist organization Hamas last night, Ezzam Abu Raffa. He was responsible for managing the Hamas organization's UAVs, drones, aerial detection, paragliders and air defense. As part of his assignment, he took part in the planning and execution of the murderous massacre in the settlements around Gaza on October 7."
The Israeli army's move to expand ground operations and intensify raids is judged a concrete prelude to the mass entry into Gaza. That the strategy had changed was already clear with the two raids in the Strip in the last few hours. The first in Shujaiya, a suburb of Gaza, where tanks and ground troops hit Hamas positions. The second of Flotilla 13, an Israeli navy unit that landed in the south of the Strip to destroy Hamas terrorist positions, including a "frogmen" base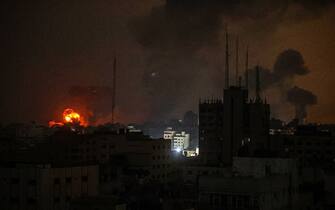 Israel also issued a warning, most likely referring to Lebanon from where the launches continue and to Syria: the army is "preparing to defend itself on all fronts and the forces on the northern border are also on maximum alert". And there is a real risk that the sparks of war in Gaza could ignite not only the northern front but also enemies further away geographically, in particular those in the Red Sea area
Prayer for peace, the Pope: "World in danger, repudiate the madness of war"
Source-tg24.sky.it