The company announces new models of the Odyssey, ViewFinity and Smart Monitor lines
Samsung Electronics has announced that it will introduce new display models of the Odyssey, ViewFinity and Smart Monitor lines at CES in Las Vegas. Odyssey Neo G9 is the world's first single monitor with Dual UHD 7680×2160 resolution and 32:9 aspect ratio in a single screen. "With the new Odyssey Neo G9, we're ushering in the future of gaming monitors, making every game more realistic with innovative features and superior image quality," said Hoon Chung, Executive Vice President of Visual Display Business at Samsung Electronics. "CES is the perfect place to showcase our innovations that can take not only gamers, but also graphic or TV enthusiasts to the next level, while providing personalized experiences through a number of integrated apps."
The 57″ 1000R curved display uses quantum mini LED technology with VESA Display HDR 1000 specifications to deliver superior visuals in any gaming environment, from shadows to the brightest scenes. The Matte Display reduces light reflection on the screen, reducing distractions during intense gaming sessions. The Odyssey Neo G9 also features the world's first DisplayPort 2.1 support, capable of transferring data nearly twice as fast as the DisplayPort 1.4 used to date. Additionally, the new DP2.1 enables to transmit information without distortion thanks to the industry-standard Display Stream Compression (DSC).Odyssey Neo G9 also supports a refresh rate of 240Hz.
Odyssey OLED G9 is a dual curved 49″ 1800R quad-HD display, with an aspect ratio of 32:9. OLED lighting with Quantum Dot technology is controlled pixel by pixel, allowing for an almost infinite color contrast ratio. The OLED screen illuminates each pixel separately and does not rely on a backlight, enabling a dynamic contrast ratio of 1,000,000:1 and delivering true RGB and deep black without color filters.OLED G9 features a response time of 0.1 ms and a 240Hz refresh rate to eliminate lag and delays.Odyssey OLED G9, thanks to Smart Hub, offers the possibility of accessing applications from Prime Video, Netflix and YouTube, allowing users to enjoy content over- the-top using an Internet connection, without the need for a PC.It is also equipped with Samsung Gaming Hub, an all-in-one game streaming platform that allows gamers to play games in the cloud from partners such as Xbox and NVIDIA GeForce Now, without the need for a console or downloads.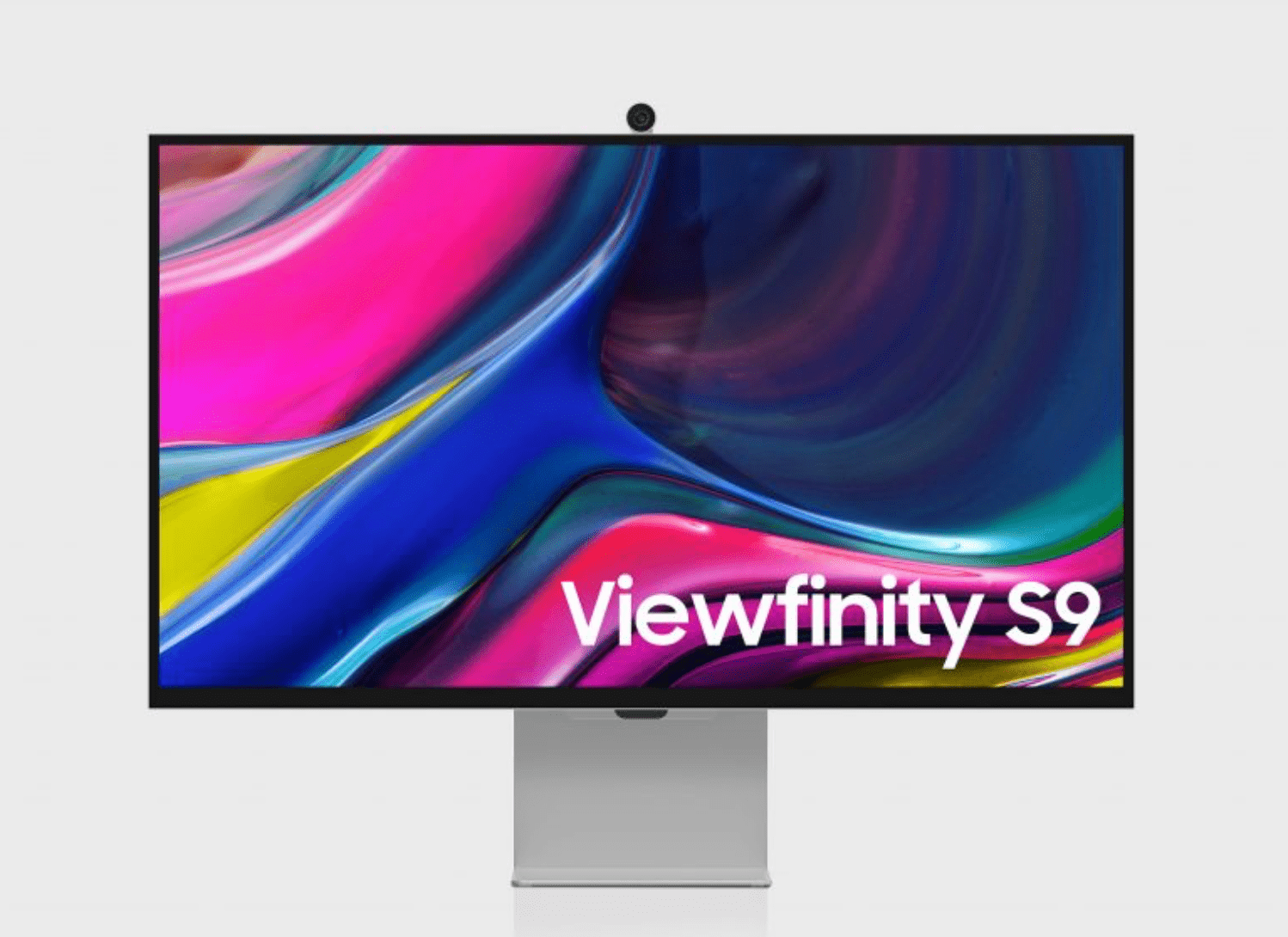 The ViewFinity S9 features a 27″ 5K display optimized for creative professionals such as graphic designers and photographers. Its 5120 x 2880 resolution, combined with 99% DCI-P3 wide color gamut, provides sharp detail. The Color Calibration Engine ensures accurate colors and brightness on the screen, allowing users to adjust the white balance, color Gamma and RGB, all managed with their smartphone through the Samsung Smart Calibration app.The matte display limits light reflections and glare to minimize minimize distractions while working. Users can connect cameras and/or other devices to the monitor via USB-C and Thunderbolt 4 to easily transfer high-resolution video or large datasets. The ViewFinity S9 series is equipped with a camera SlimFit 4K and natively supports video conferencing through applications such as Google Meet, included in Samsung Smart Hub.
Smart Monitor M8 is now available in a new 27″ format in addition to the existing 32″ format, both with 4K resolution. It is available in four colors: Daylight Blue, Spring Green, Sunset Pink or Warm White. Height-adjustable stand with tilt support provides users with the best angle. The screen can now rotate 90 degrees, allowing users to view long documents with less scrolling. Smart Monitor M8 can connect, control and manage hundreds of compatible connected devices through the integrated SmartThings Hub, including lights, cameras, doorbells, locks, thermostats and more. Samsung plans to expand the choice of devices and their accessibility with the support of the Matter function and the standards of the Home Connectivity Alliance starting this year. Users can use Smart Monitor M8 to get instant access to Prime Video, Netflix, YouTube and other over-the-top services through Smart Hub. They can also easily access Samsung Gaming Hub, the all-in-one game streaming platform. The SlimFit camera built into the M8 Smart Monitor has been upgraded to 2K resolution and supports video conferencing applications such as Google Meet.
Source-www.adnkronos.com