84% of companies are aware of the environmental crisis, but the transition is still far away
Although entrepreneurs are aware of the ongoing environmental crisis, only 11% of European SMEs have a structured plan for decarbonisation.
This is the data that emerges from the "Mid-market Climate Transition Barometer" study by The Argos – Bcg, which involved 700 SME leaders in July 2023 in 6 European countries (Italy, France, Germany, Belgium, the Netherlands and Luxembourg) .
With their synergy Argos Wityu and Bcg (Boston Consulting Group) inaugurated the first edition of a barometer that evaluates the progress of European small and medium-sized enterprises in their decarbonisation process.
The data that emerges from the study is rather worrying and takes on particular relevance in light of the European Commission's estimates, according to which small and medium-sized enterprises produce up to 2/3 of the greenhouse gases emitted at community level. Data in hand, the EU has 25 million SMEs which they make up 99% of all businessesand generate approximately 56% of European GDP.
It is clear that a clear change of gear is needed from a production but also legal point of view. In this sense the CSRD Directive on corporate sustainability reporting which requires companies with more than 250 employees and 40 million euros in turnover to disclose their impact on the climate, including Scope 3 emissions. The directive establishes an annual reporting period starting from the 1st January 2026.
However, this is a rule which, given the requirements of employees and turnover, does not concern SMEs other than listed ones. Furthermore, Germany is pushing to exempt over 7,000 companies from the non-financial reporting obligation, proposing to review the European criteria that define SMEs.
In this crucial phase for the political debate around green regulations, it is crucial to know the entrepreneurs' point of view on the topic.
What European SMEs think about the ecological transition
The poor organization to reduce emissions is not the result of a lack of awareness: 84% of the SMEs interviewed as part of the "Mid-market Climate Transition Baromete" study considers l"important" or "critical" reduction of greenhouse gas emissions.
One might therefore think that the obstacle to the green transition is of an economic nature, but research also refutes this hypothesis. In fact, among companies that consider reducing emissions important, 71% perceive it as an opportunityespecially for two reasons:
– Better profitability: the energy transition makes companies less dependent on market fluctuations and less vulnerable to natural disasters;
– Access to new markets: since this is a horizon that is by no means saturated, sustainable investments can generate an immediate or long-term competitive advantage
Confirmation comes from Simon Guichard, Partner at Argos Wityu, according to whom: "There is no doubt that the decarbonisation of medium-sized companies can generate strong opportunities in all sectors. Many investors, from family offices to large institutions, are willing to support these businesses in their Gray to Green transition and help them become sustainable leaders."
How much do European SMEs invest in sustainability?
38% of the SMEs interviewed declare that they have already invested a lot in decarbonisation, but in reality only 11% have a structured approach which requires these 3 requirements:
– measurement of its greenhouse gas emissions;
– designing a roadmap to reduce emissions;
– realization of significant investments
Some confusion on the topic emerges from the research, given that 27% of those interviewed declared they had a structured plan, but in reality it has not yet measured its carbon footprint or organized a roadmap to reduce Co2 emissions. On the other hand, there are 35% who have measured the carbon footprint and built a roadmap without having yet invested and another 27% who have neither declared they have invested nor have planned actions for measuring emissions and planning towards decarbonisation.
"Unlike large companies, SMEs are rarely large enough to hire the necessary talent or to develop internal capabilities and set ambitious decarbonisation targets. Now we need to help them turn their optimism into structured investments." Explains Fabio Cancarè, Partner and Associate Director, Climate Impact of Bcg.
In fact, the various investments that emerge from the study depend on the ownership and the sector they belong to.
62% of publicly traded companies say they have made "heavy investments", compared to 35% of unlisted companies. At a sectoral level there are very marked differences, with 51% of companies in the transport and logistics sector declaring they have invested considerably, compared to a mere 24% of companies in high-temperature industries (for example, metals , glass, ceramic) which also use a lot of energy.
Differences between states
Although in every European country over 1/3 of SMEs have declared that they have made significant green investments, the perception of the ecological transition varies greatly between states.
In Germany and France, for example, over 1/5 of SMEs consider the climate transition a regulatory compliance, while only 73% of German small and medium-sized businesses and 63% of French ones consider the transition a development opportunity.
On the contrary, in Italy less than 1/10 of the companies interviewed consider these investments a mere regulatory compliance, while 86% of Italian SMEs consider decarbonization and sustainability an opportunity of economic development.
[Grafico, fonte: ESG360.it su dati "Mid-market Climate Transition Barometer" di The Argos – Bcg]

Mid-market optimism
Despite still insufficient investments, European small and medium-sized enterprises are optimistic about achieving the objectives set for 2030, considered achievable by 70% of the companies interviewed.


However, businesses need real support to overcome the three main obstacles they face, such as lack of financial resources, regulatory complexity and skills shortages.
"Unlike large corporations, mid-market businesses rarely have sufficient scale to hire the necessary internal talent or to develop internal capabilities and achieve ambitious decarbonization roadmaps. Now we must help them transform their optimism into structured investments" declared Benjamin Entraygues, Managing Director and Senior Partner of Bcg.
This is echoed by Louis Godron, Managing Partner of Argos Wityu: "To successfully complete the environmental transition, medium-sized businesses will need strong support, specialized experts and financing. We are convinced that the first to initiate profound changes towards decarbonisation will benefit from a lasting competitive advantage."
To continue on the green path, it is necessary to identify the drivers that guide companies towards reducing emissions and sustainability, as summarized in the ESG360.it table. From the "Mid-market Climate Transition Barometer" study it emerges that the 70% of SMEs have taken sustainable initiatives driven by the introduction of new regulations European and national; 60% driven by fears related to energy crisis and the 51% to respond to market demandsincreasingly attentive to ESG issues.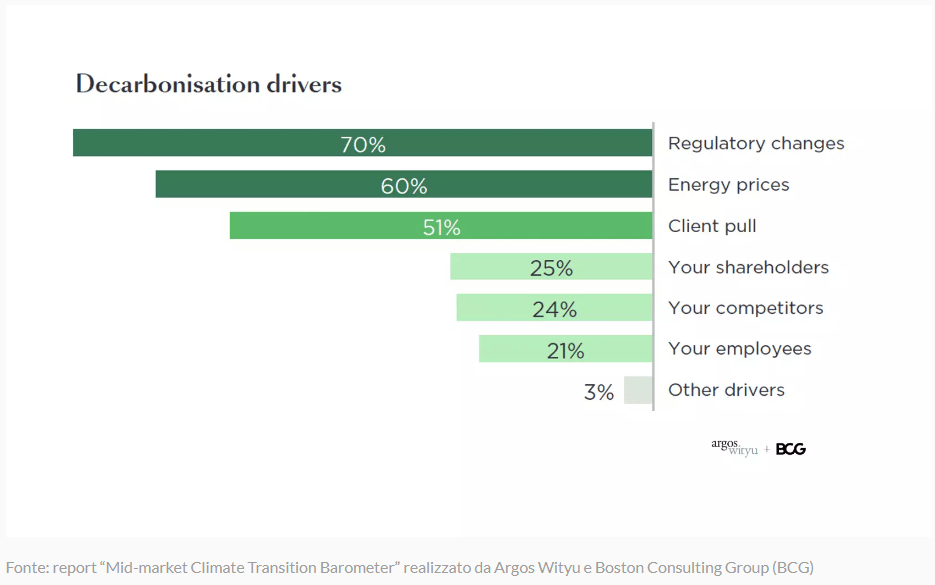 "Mid-market companies are in the early stages of their sustainability journey and their investments are still predominantly driven by regulations, energy prices and customer demand. The path towards a structured and complete approach is still long. It is absolutely essential to support SMEs with dedicated measures and tools if we want to achieve our climate objectives", commented Pietro Romanin, Managing Director and Partner of Bcg.
Source-www.adnkronos.com